Keychain Access is a macOS app that stores your passwords and account information and reduces the number of passwords you have to remember and manage. When you access a website, email account, network server, or other password-protected item, you may be given the option to remember or save the password. If you choose to save the password, it's saved in your keychain so you don't have to remember or type your password every time. The passwords stored in the keychain are dynamically linked to a particular user's login password, so that when the user logs on, all of the various accounts and passwords are made available to the operating system and select applications - this is commonly referred to as the login keychain. The keychain system also manages root certificates, keys, and secure notes.
Keychain problems on mac computers running macOS typically occur after a password reset is performed through the self-service (web) system. These problems are a result of the mismatch between the password that is used to log on to the computer and the password that was previously stored in login keychain. The prompt seen below is the typical visual indicator of keychain problems.
(Image of Keychain Access wants to use the login keychain window)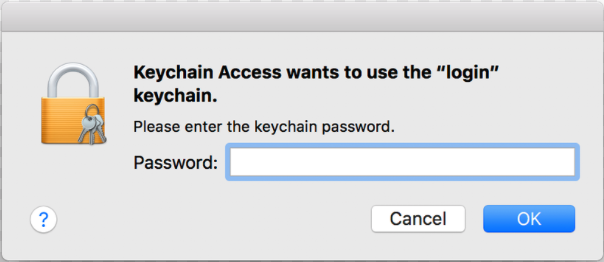 How do I avoid a keychain issue?
The only way to avoid a keychain issue is to perform your password changes directly through the mac operating system. If done properly, the computer will update the password for your SCSU NetID and the login keychain at the same time. To be successful, the password reset needs to be performed while on-campus and plugged in to the wired network or connected wirelessly to the SSL network.
PERFORMING A PASSWORD RESET ON A MAC
CLICK HERE FOR HIGH RESOLUTION VIDEO
How do I fix a keychain problem?
There a several scenarios that could lead to a keychain problem which results in persistent prompts requiring a keychain password. There are also several different ways to resolve a keychain issues. When your mac computer first determines a discrepancy in password, you will be prompted to update your login keychain password. If that prompt is ignored, you can update your login keychain from within the keychain access application.
FIXING A KEYCHAIN PROBLEM
CLICK HERE FOR HIGH RESOLUTION VIDEO
(IT Service > Other)